The Importance of a CSA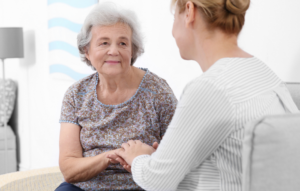 If you're looking for help in managing the care of an aging loved one, put your trust in a Certified Senior Advisor (CSA).
Why? Because CSAs are trained to use their knowledge and expertise to identify a wide variety of seniors' needs –from everyday challenges to financial, health, and legal concerns –and find the very best solutions for these needs.
It can be difficult to know what decisions to make. Information is often conflicting or overwhelming. Choices can be confusing. That's why it's important to sort through it all with someone you trust. Someone who knows how to navigate the tides of change. A CSA can help make sure affairs are handled appropriately, easing transitions to assure smooth sailing for you and your loved one.
You know you can trust your CSA because, to earn their certification, they must pass a demanding exam, submit to a detailed background check, and agree to a stringent code of professional responsibility that requires them to put the needs of their client first. When you hire a CSA, you know you're working with a professional who understands the obstacles you and your loved one face and will always have your best interests in mind.
Where to Find a CSA
When looking for a CSA, you don't have to look further than Loretta Shacklett of Simplify Senior Living. Loretta earned her CSA designation and founded Simplify Senior Living with the goal of providing the very best care and support to the company's clients and their families.
In addition to earning her CSA designation, Loretta's educational and professional background includes certification as a dementia practitioner, family counseling, and life coaching. Her life experience helps her live her philosophy to provide a supportive and positive approach to senior care.
She believes a good quality of life is especially important for older adults who are dealing with chronic health conditions, cognitive issues, and major life changes. Emotional support and quality companionship can ease the transition when older adults are experiencing these life changes. Loretta knows that caring for someone with cognitive issues is a unique journey. Simplify Senior Living caregivers can make a difference.
Services offered by Loretta and her team include assistance with surgical recovery, caregiver respite, home organization, grocery shopping, running errands, companionship, bill paying and paper management, laundry, and accompaniment to doctor's appointments, among many others.
Whether your parent or spouse is aging in place or resides in a continuing care community, assisted living, memory care, or personal care facility, Simplify Senior Living has much to offer.
Do you need a CSA?
If you have elderly loved ones who need extra support in their life and would like to know how a CSA can help, contact Simplify Senior Living today. Loretta and her team will design the right plan for your family's needs.