A Society Dedicated to Working with Older Adults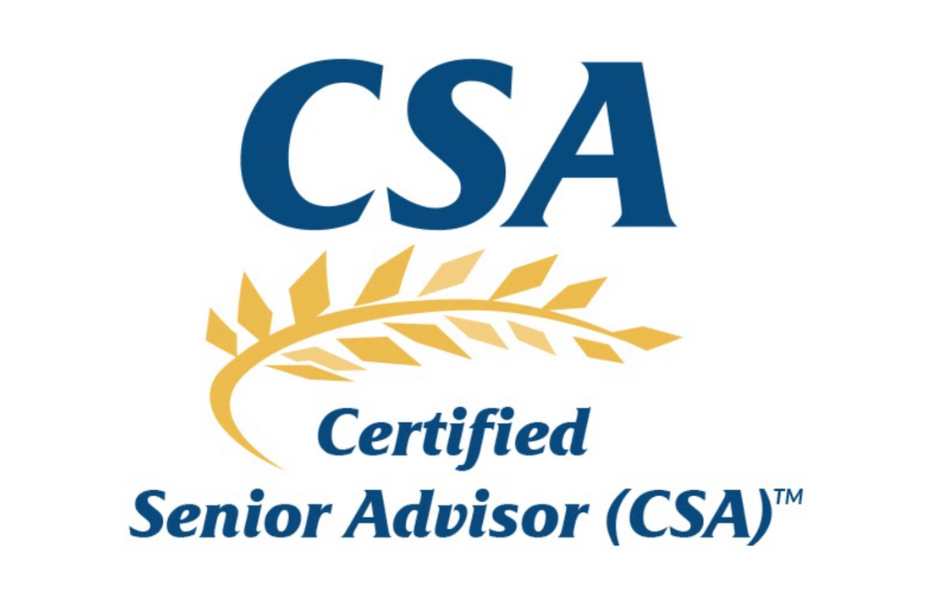 The Society of Certified Senior Advisors® was launched in 1997 to provide a standard of education for professionals who work with the aging population. The Certified Senior Advisor (CSA)® is the leading certification for professionals serving older adults, and it is a designation awarded to qualified individuals. Earning the CSA certification requires individuals to pass a rigorous exam and to uphold the highest ethical standards for the benefit and protection of the health and welfare of seniors. CSAs are multidisciplinary professionals who have demonstrated advanced knowledge in the multiple processes of aging.
The CSA certification validates and gives confidence to both CSA professionals and the clients they serve. CSAs are knowledgeable in the issues facing older adults and maintain the highest ethical standards. The CSA coursework covers a range of issues unique to aging adults so that we approach each client with empathy and a desire to understand them right where they are today.
Loretta Shacklett, Certified Senior Advisor (CSA)®, founded Simplify Senior Living with a commitment to provide meaningful senior companion care. With her background in Family Counseling and Life Coaching, Loretta is an advocate for seniors and provides companionship that prioritizes quality of life. Simplify Senior Living believes providing emotional support is key to keeping your loved one physically and mentally fit.
Understanding the Senior Adult Experience
Simplify Senior Living comes alongside families to help them understand the way life is changing and to help seniors embrace new opportunities. Our goal is to support seniors as they continue living independently wherever they call home. We are well-equipped to provide daily life services that enhance the individual's experience while giving the family peace of mind.
Senior independent living is not without its challenges as the natural process of aging takes a toll. Many seniors who are self-sufficient find themselves needing minor support for daily activities and errands. Our caregivers understand these needs and assist clients with the dignity and respect they deserve. We encourage our clients to remain independent, active, and healthy so that they may continue enjoying life for years to come.
Quality of Life Caregiving for Elderly Adults
At Simplify Senior Living, the true focus of our work is engaging with our clients in a way that supports their quality of life. While our services include day to day tasks like helping with meal preparation, grocery shopping, mail organization, scheduling appointments, and organizing the home, our real mission is building relationships. Our clients are unique individuals, and we consider it a privilege to get to know them and work with them.
Every service we offer is custom designed to assist our senior clients in their daily activities in ways that resonate with their style and comfort. We follow their lead, learn their likes and dislikes, and tailor our approach to fit with their personality. We treat each client with respect and dignity. We seek to support them in a lifestyle that brings joy and long-lasting health.

If you have elderly loved ones who need extra support in their life, contact us today to see how Simplify Senior Living can design the right plan for your family's needs. We serve seniors in Montgomery and Bucks County, as well as Chestnut Hill, the Main Line, and surrounding areas.